How to Achieve Exceptional Results with Fine Art & Decorative Objects? Rarity & Quality
Pridham's annual Spring Fine & Decorative Arts auction was a stunning success. Many pieces achieved well over their high estimate while others performed well within their estimated market value. Global buyers from Europe, South America, Asia, America, bid eagerly online (via Live Auctioneers and HiBid), on the phone, and through absentee bids. Local buyers from Québec and Ontario added to the spirited dynamic of the sale by their presence in the room.
The April 1st, Fine Art & Decorative Objects Sale demonstrated, once again, that the market is after rare and high-quality works of art. While the demand for remarkable pieces may seem like old news, it is truly becoming more evident in the auction climate today. In the past, lower-value objects still achieved reasonable and even notable results. However, that is no longer the case. Trends indicate that the market is rejecting such objects and collectors, dealers, and interested buyers only want exceptional pieces. The growing insistence for first rate items in the market, according to the most recent report from Art Basel & UBC, is connected to the lingering effects of the pandemic, economic instability due to inflation, as well as rising global conflict. Robin Pridham, president of Pridham's, reflected on these market shifts in a recent interview with Herb Bond, editor of the Canadian Antiques & Vintage magazine, that:
"The market has moved up. Mediocracy is struggling, while rare pieces are doing exceptionally well…In 2023, mediocracy is dead. Pieces must be exceptional. Buyers are after quality pieces. When quality and rarity are found in one piece it always over-performs."

-Robin Pridham
Robin's belief that mediocracy is dead rings true throughout auction sales in 2023. If we look through our most recent notable results from the Fine Art & Decorative Objects Sale, it is evident that rarity and quality drive the results. Road to Kiev by Isaak Ilyich Levitan sold for $7,800, a whopping $4,800 over the high estimate. Levitan's work has remained in high demand by the art market for decades. His paintings were included in the founding collection of the Tretyakov Gallery in Moscow due to his working connection with the notable philanthropist and collector, Pavel Mikhailovich Tretyakov. Throughout his career, Levitan was confronted by his contemporaries who argued that the Russian landscape was not worth painting. Since Levitan rejected their perspective on the Russian landscape, the subject matter of his work stands out today as it differs from his contemporaries. His paintings also carry continued relevance in part to the current conflict between Russia and Ukraine. In 1879, Levitan and his family faced mass deportation from major Russian cities because of their Jewish heritage. The violent acts used to determine who is "Russian" and who is not was a sad reality in the life of Levitan and a continued reality for Russians and those surrounding its boarders today. Levitan's relevance to the current socio-political climate, his desire to paint the landscape around him, and his connection to the Tretyakov make his works unique, rare, and add to its appeal in today's market.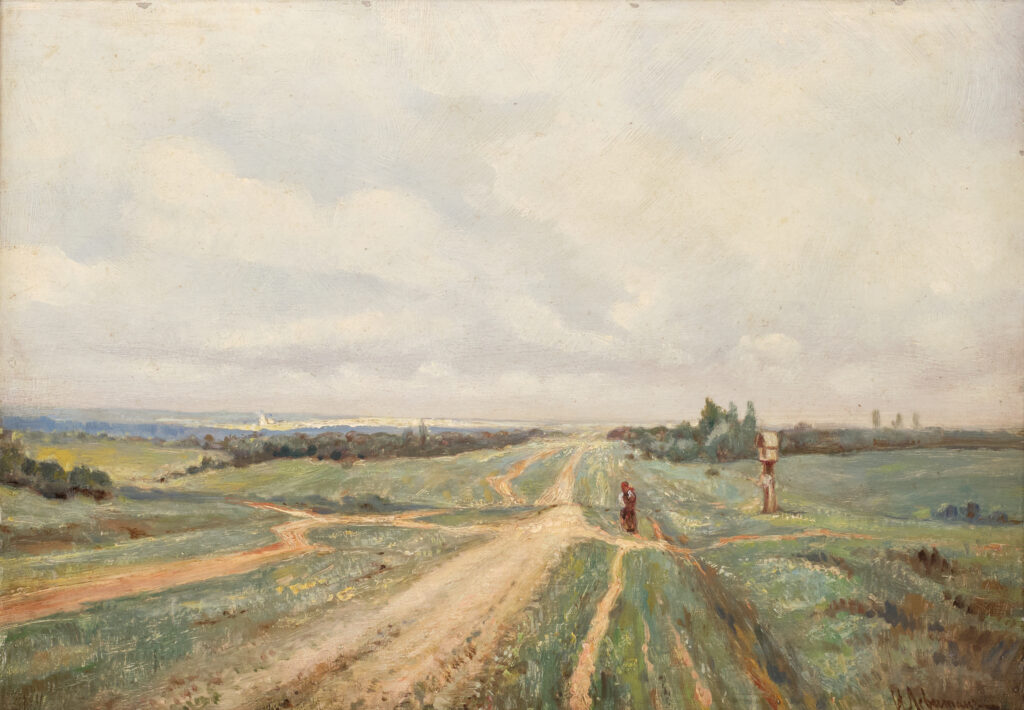 Henry Saint-Claire's painting, which sold for $3,600, far surpassed its high estimate of $1,200. In France, Saint-Clair was recently listed as one of the most important French painters of the twentieth century. This example from Saint-Clair is not typical of his popular beach scenes and is a truly stunning painting depicting Parisian life. The atypical subject matter as well as his newfound relevance within the art historical narrative convinced many that now is the time to invest in his work.
In the decorative arts category, our three top notable results from this sale reiterate that the market is after phenomenal pieces. The Fine Russian Silver Stirrup Cup achieved $4,200 (estimate $300-$500). The Steuben 'Ice Hunter' by J.A. Houston surpassed its high estimate of $3,000 and sold for $5,400. A late twentieth century glass Kazaribako (ornamental box) created by Kyohei Fujita overperformed as well, attaining $4,800 (estimate $2,500 – $3,500). All three J.A. Houston Steuben's received significant results, but the 'Ice Hunter' proved to be the most popular as it sold for $4,500 (estimate $2,000 – $3,000). The Stirrup Cup, Houston's Stueben, and Fujita's Kazaribako all over-performed because of these shared commonalities: distinguished craftmanship of the highest quality, limited quantity, and rare forms.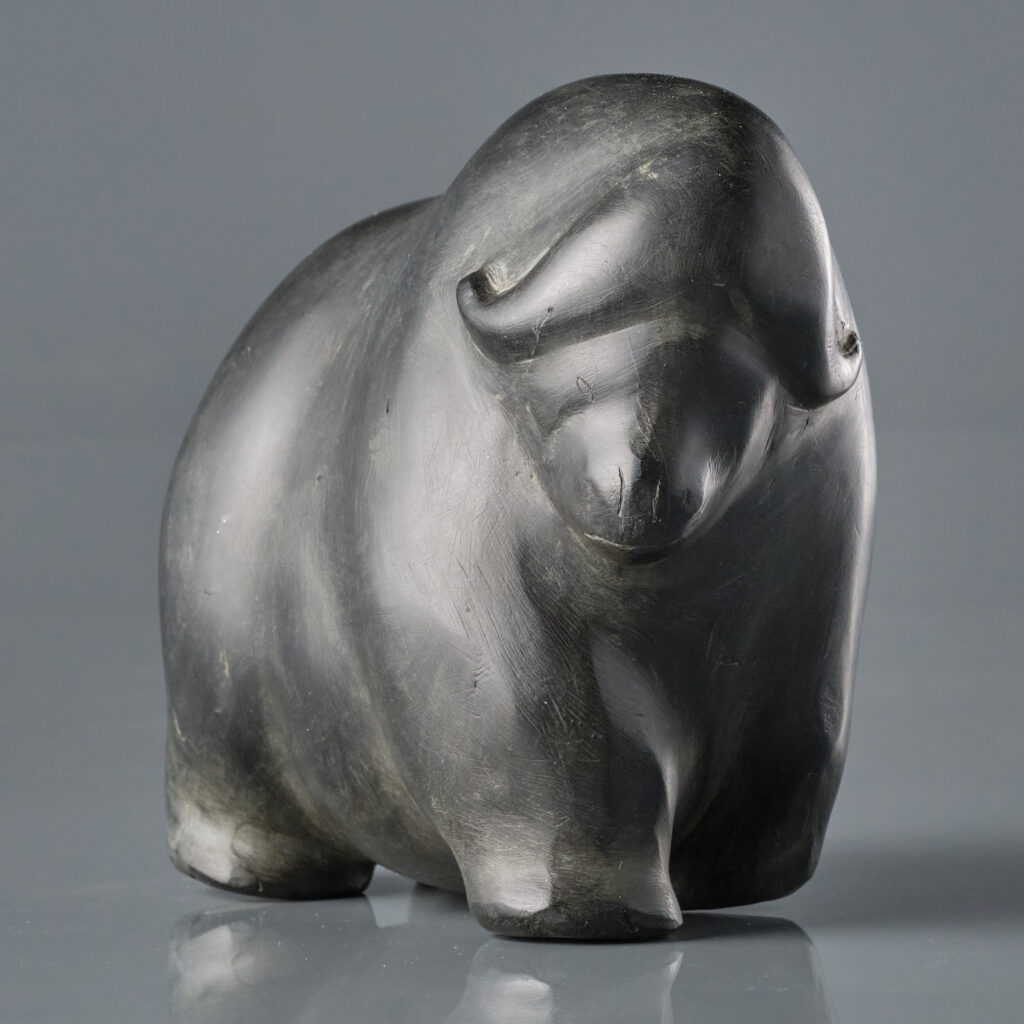 The Inuit art included in the sale, particularly the sculptures, also exceeded expectations. Lot 19, one of four beautiful Muskox sculptures sold, is quite an early sculpture and contains a fantastic sense of flow and movement, which increased its desirability. It sold for $1,800 (estimate $300-$500). Even contemporary Inuit sculptures, for example Billy Gauthier's portrait carving done in 2007, received significant attention. Gauthier's sculptures are becoming highly collected amongst Inuit art collectors. Bidders were not deterred by its small size and brought the final sale price up to $1,680 (estimate: $200 – $300). Another Muskox sculpture, lot 14, sold for $4,500 (estimate: $800 – $1,200). The large scale of the Muskox, as well as the movement that was given to the stone's form made lot 14 one of the most viewed lots before the sale. Again, when "quality and rarity are found in one piece it always overperforms."
The exceptional results of Pridham's Fine Art & Decorative Objects Sale demonstrates the markets pursuit of valuable and rare works of art. Thank you very much, merci beaucoup, to all our bidders for your comments, questions and compliments leading up to and following the sale. All those treasures will be shipped around the world – some going back to their mother land, as far as Japan!! Our next Fine Art sale will be in the Fall; it is not too early to contact us for more information. If you are looking to downsize your collection or even part with a singular piece, your exceptional works will achieve fantastic results.