Movement and Form in Works by Molly Joan Lamb Bobak and Rita Briansky
This article is the first installment of a new monthly series, Pridham's: Where Art Lives. Each month, members of the Pridham's team will take a closer look at the creators included in upcoming sales. As we approach the Fine Art & Decorative Objects auction, two female Canadian artists have been of a particular interest: Molly Joan Lamb Bobak and Rita Briansky. By examining the intrinsic qualities of movement and form, both Bobak's and Briansky's work explores the dynamics of life within the natural and urban spheres. Offering the contemporary viewer a glimpse into their experiences as female Canadian artists in twentieth century Canada.
Molly Joan Lamb Bobak
Fine Art & Decorative Objects includes two pieces by Molly Joan Lamb Bobak, who, among many other impressive accomplishments, was the first woman sent overseas as an official Canadian War Artist during the Second World War. Mug of Daisies, oil on board, and Trees, graphite on paper, reveal Bobak's appreciation for the authentic beauty found in nature.
While Bobak's most popular works explore crowds of people, in these pieces, we can take a close look at her interpretation of crowds in the natural world. The rich diversity of movement depicted in Trees demonstrates Bobak's understanding of trees functioning as crowds; the intertwined branches blowing in the wind create a piece full of entangled movement. Mug of Daisies, captures the ephemeral nature of cut flowers. Again, movement is created through the intersection of stems, leaves, and flowers as they strain upward towards the sunlight or slightly droop towards the ground. 
In a 1993 interview with CBC, Bobak explained "I love flowers. Poppies [are] like crowds; they move in the wind. You don't organize them. You don't settle them into something. You paint them as they are, blowing or moving or dying or coming to birth and that is how it is with my crowds. I see something and it is spontaneous and it's moving and it's about the movement of something like crowds and colour or flowers and colour."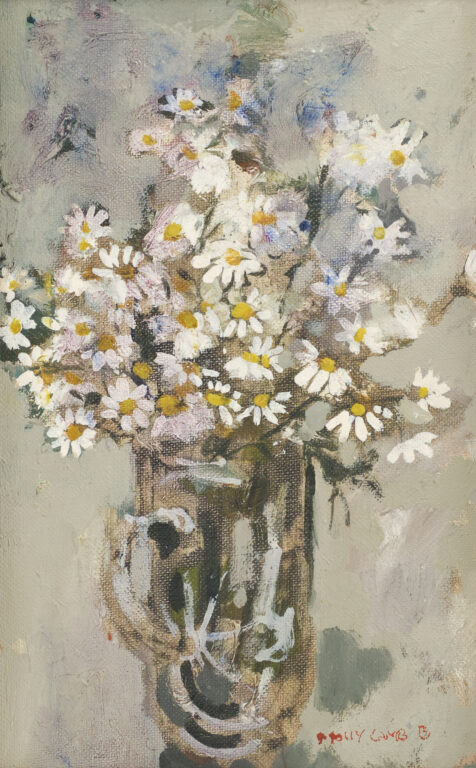 Rita Briansky
An involved and much respected member of Montreal's art community, with nearly fifty years of experience working as an art history and studio art teacher, Rita Briansky is an award-winning painter whose work is included in the permanent collections of distinguished institutions such as the National Gallery of Canada, Montreal Museum of Fine Arts, and many others. Briansky's work tends to focus on her response to the world around her in which she explores the nature of the human condition. In her autobiographical book, My Name is Rita Briansky, she states "I cannot paint anything unless I experience it."
Briansky's interest in conveying her experience is shown in the painting, Waiting at the Bus Stop, a typical urban scene focusing on the various individuals at the bus stop. Here, the emphasis on form and narrative create a strong sense of movement throughout the piece. Unlike Bobak's formulation of movement through overlapping forms, Briansky uses distinct forms and hard lines to keep viewers engaged and involved in the movement of the work. The gaze of the three women in the center, engaged in quiet conversation, is juxtaposed by the two outside figures looking expectantly up the street for the arrival of their bus. The linear road lanes and cars in the background pull the viewers gaze in the opposing direction down the street. The movement created by these distinct forms is further emphasized in the figures posture and positioning. The subtleties in body language allow the viewer to consider the thoughts and conversations taking place and contemplate the monotony of routine.
Fine Art & Decorative Objects
Pridham's is pleased to include many fantastic fine artworks by notable Canadian and international artists in our upcoming Fine Art & Decorative Objects auction. While many of the pieces are returning to the art market after resting for several decades in various private collections throughout Ontario and Québec; several are entering the art market for the very first time. This sale contains a strong Canadian art section, including works from Jack Weldon Humphrey, Bruno Côté, Frederick S. Coburn, Sege Brunoni, Horace Champagne, John Young Johnstone, Henry Metzger, Allen Sapp, Herbert S. Palmer, Randolph T. Parker, and William W. Armstrong. Of note, many of the included European and Scandinavian works originate from a Norwegian family's extensive private collection. Emigrating to Canada in the 1940s, to escape the threat of Nazi invasion, they were able to take much of the collection with them. Pridham's is privileged to offer these pieces to the international art market; allowing these paintings to find themselves within new collections and homes across the globe.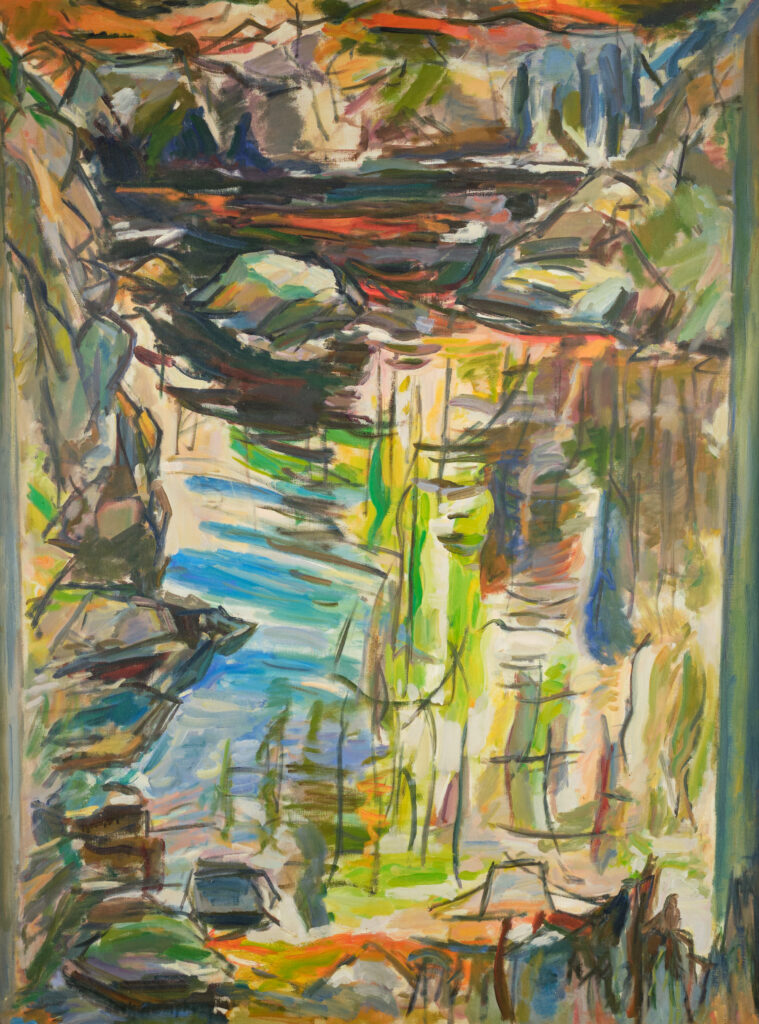 Fine Art & Decorative Objects will be live in-person and online (Live Auctioneers & HiBid) on Saturday, April 1st at 10 AM EST.
View the sale's high-resolution catalogue on ISSUU.
Don't want to miss a Pridham's update? Subscribe to our Newsletter for the latest sale information.